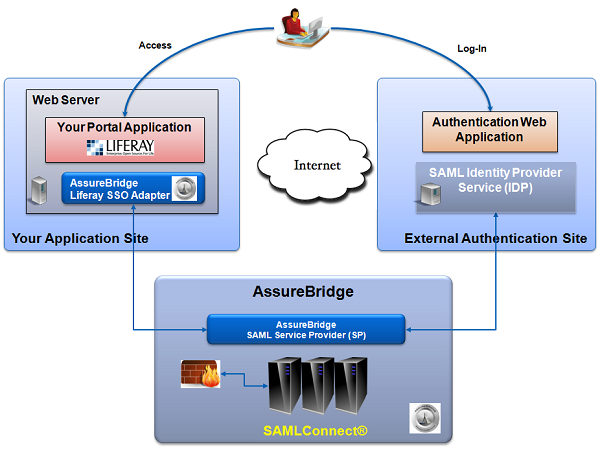 The AssureBridge SAMLConnect™ service provides a powerful solution that will allow you to quickly, easily, and reliably enable single sign-on  (SSO) to or from a Liferay portal. We support both CE and EE of the Liferay product.
The AssureBridge Liferay SSO adapter is pre-integrated into the LifeRay portal and offers the following features:
Enables Liferay for inbound or outbound SSO connections using standards protocols such as SAML 1.1, SAML 2.0, OpenID or WS-Federation

SP-initiated Login
IDP-initiated Login
SP-initiated Logout
IDP-initiated Logout

Allows user profile information (e.g. email, nickname, job title) to be passed securely into the LifeRay database as part of the single sign-on experience
Allows Liferay user information to be synchronized with external systems
Supports a number of hooks to customize login and logout behavior

Custom IDP partner name provider for SP to map incoming requests to partner IDP. This is important for multi-tenant deployments where you Liferay instance is used to host sites for a number of customers with different partner IDP
Custom SP Attribute processor that allows to process SAML attributes coming from a particular partner IDP
Custom IDP Attribute mapper that allows Liferay IDP to map outgoing user attributes in a custom way for each partner SP application
Post login hook allows to call custom code after an SSO user is successfully logged into the Liferay portal

Allows to reload SSO adapter configuration at runtime without the need to restart the Liferay portal instance
Integrators can save hundreds of hours of custom development work using the Liferay SSO adapter.  Integration and configuration is greatly simplified using:
Pre-integrated plugins that require zero coding
SSO connection support from AssureBridge professional technicians.
Automatic generation of Liferay configuration files assuring SSO connectivity is configured right the first time
With the AssureBridge Liferay adapter, your portal developers can concentrate on providing rich customer experiences rather that wrestling with the intricacies of complex single sign-on protocols.
Learn more about:
For more details and a demo please contact us directly.